Event Information
Silverstone GP
| | |
| --- | --- |
| Event Date: | 10th April 2018 |
| Venue: | Silverstone GP |
| Event Location: | Northamptonshire |
| Noise Limits: | 102 db |
| Status: | Completed |
Schedule
| | |
| --- | --- |
| Sign On Time: | 07:30 am |
| Briefing Time: | 08:30 am |
| Track Start Time: | 09:00 am |
| Track End Time: | 05:00 pm |
* Above track time is subject to a lunch break & conditions on the day.
Additional Information
We are pleased to be returning to the Silverstone Arena GPcircuit again this year. We willbe operating from the Heritage pits, not the new Wing complex. Thecurcuit is as used forthe British Grand Prix. It is 1/2 mile longer than the previous GPcircuit and the new Arena section is a real technical challenge. This is athree session per hour day with each session lasting 20 minutes. Weexpect eachcar to have 2 hours of track time throughout the day, assuming nostoppages.There is only one MG session with the two other sessions being taken bypartner car clubs so book early to ensure your space
Beginners / First Timers please note that due torestrictions in our contract with Silverstone we regret that first time track daydrivers may not participate in this day. Please checkyour website user profile to make sure the experience level recorded therereflects your current status.
Coaching
MGoT is pleased tooffer an opportunity to develop specific areas of your driving skills toincrease your track day enjoyment. Before you spend any more cash onimprovements to your car consider this. MGoT will now offer drivers, dedicated,one-on-one coaching with an ARDS instructor for your entire afternoon tracktime. Places are very limited and the cost is an unbelievable £42 ! Book andpay at the same time you book your place by selecting the coaching option.
Instruction
We encourage all drivers to take the opportunity ofinstruction with our Association of Racing Drivers Schools (ARDS) Grade Aqualified instructors. We strongly advise all levels of experience to takeadvantage of this. Please note we areunable to provide more than two instruction sessions per car. Any additionalbooked will have to be cancelled. We regret that instruction is not available in cars which are not fitted with seatbelts
Helmet hire
We have a number ofhelmets available to hire on a first come, first served basis and these can bebooked online at the same time as you book your place.
Second Drivers
You can book to bringalong a second driver but we can only allow one additional driver per car. Thesecond driver must sit as passenger during the sighting laps and then performhis own sighting laps at a lower speed during his first session on track. Ifyour second driver's experience is significantly different to your own, pleasediscuss this with Dave Pearce.
Details about the day
We will e-mail anevent guide with final instructions during the week before the event, pleaseread it carefully when it arrives. This event guide will also be posted in theForum under the Silverstone New GP thread.
Cars must be roadlegal and comply with current MOT legislation where appropriate. Drivers mustbring their FULL driving licence to sign-on. Failure to do this may mean you will not beallowed on track.
Event Manager
:- Dave Pearce is the committee member acting as the event manager for thisday. Please contact him at
DaveP@mgs-on-track.co.uk
if you have anyquestions.
Booking is only through this website.
You need to be loggedin in to the website to see the 'Book and Pay' button. Use this to make asecure online payment to guarantee your place and extras. Debit and CreditCards are the only form of payment methods we are able to accept.
The MGCC member price will only be given if you have entered your membership number in your website profileHERE BEFORE booking your place. We cannot give retrospective refunds for this.
Who's going
| Driver | Car |
| --- | --- |
| Log in to see driver names | 2003 Mazda MX-5 (140 bhp) - Silver |
| | 1973 MG Midget (65 bhp) - Blue |
| | 2003 MG TF (160 bhp) - Black |
| | 1993 MG RV8 (190 bhp) - Green |
| | 2002 MG ZS 180 (180 bhp) - Blue |
| | 1978 MG B Roadster (95 bhp) - Green |
| | 1957 MG A Twin Cam (100 bhp) - Red |
| | 1998 MG F VVC (143 bhp) - Amaranth |
| | 1984 Austin Mini (55 bhp) - blue |
| | 2001 MG F Trophy 160 (160 bhp) - Trophy Yellow |
| | 1975 MG B GT V8 (140 bhp) - White |
| | 1966 MG Midget (80 bhp) - BRG |
| | 2004 MG ZS 180 (180 bhp) - Blue |
| | 1972 MG B GT V8 (200 bhp) - red |
| | 1958 MG A T-C (125 bhp) - Green |
| | 1993 MG RV8 (190 bhp) - Nightfire Red |
| | 1978 MG B GT V8 efi (220 bhp) - primrose |
| | 1966 MG B GT (105 bhp) - Black |
| | 1972 MG Midget (93 bhp) - White |
| | 2003 MG TF (135 bhp) - XPower Grey |
| | 2004 MG TF (134 bhp) - Tahiti Blue |
| | 1993 MG RV8 (190 bhp) - Nightfire Red |
| | 1975 MG B GT (90 bhp) - British Racing Green |
| | 1970 MG Arkley Midget (110 bhp) - Blue |
| | 2002 MG ZR (120 bhp) - blue |
| | 2002 MG TF (175 bhp) - Silver |
| | 2003 MG ZR 160 (160 bhp) - red |
| | 1997 MG MGF 1.8i (140 bhp) - Amaranth |
| | 2004 MG SV (465 bhp) - Blue |
| | 1996 MG MGF 1.8i (143 bhp) - Flame Red |
| | 2005 MG TF (135 bhp) - Silver |
| | 2002 MG ZS 180 (192 bhp) - Trophy Blue |
| | 2005 MG ZS (180 bhp) - Blue |
| | 2003 MG ZR (160 bhp) - Trophy Blue |
| | 1971 Triumph Spitfire (150 bhp) - Yellow |
| | 2003 MG ZT (190 bhp) - Silver |
| | 2003 MG ZS (180 bhp) - Blue |
| | 1968 MG B GT V8 (270 bhp) - BLUE |
| | 2003 MG TF (160 bhp) - Red |
| | 1979 MG B roadster v8 conversion (240 bhp) - Blue |
| | 1959 MG A Coupe (150 bhp) - red |
| | 2001 MG ZR 160 (160 bhp) - Trophy Yellow |
Event Manager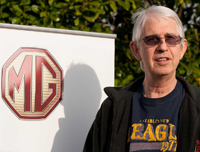 David Pearce
07976 796213
Recent Events
Bedford Autodrome GT Half Day
Goodwood
Goodwood, West Sussex
23rd February 2019
[
Event Info
]
Content © 2019 MGs on Track. All Rights Reserved. (Version: 2018.06.15)