Event Information
| | |
| --- | --- |
| Event Date: | 26th June 2020 |
| Venue: | North Weald |
| Event Location: | Epping, Essex |
| Noise Limits: | 105 db |
| Status: | Cancelled |
Schedule
| | |
| --- | --- |
| Sign On Time: | 08:00 am |
| Briefing Time: | 08:30 am |
| Track Start Time: | 09:00 am |
| Track End Time: | 04:00 pm |
* Above track time is subject to a lunch break & conditions on the day.
Additional Information
This is not a track day but a Starter Experience - an event for you to have fun in your car, increase your driving skills, gain confidence inboth your own and your car's abilities and meet other like-minded MGowners.It is designed for absolute beginners or novice track day drivers whowish to gain confidence before venturing onto a race circuit. It allowsyou to explore your car's handling in a safe environment and to gainconfidence under the watchful eye of a performance driving instructor.Numbers are limited to just 23 cars and only one car is active on eachexercise at a time, minimising any risk to car or driver.
Unlike previous years there is now a static nouse restriction of105dB (which is pretty loud) measured at 75% full revs at 0.5m from thetailpipe. All cars will be tested before being allowed to take part. Ifyour car is used as a road car, it will almost certainly not have anyproblems passing but if you are in doubt, please contact Dave Pearce - DaveP@MGs-on-Track.co.uk.

After a group introduction and explanation of the day ahead, we beginwith the high-speed bend activity. This mimics the situation of suddenly arriving at a bend when you are going too fast, the idea being to getaround it under control and without spinning! Of course, being able toexperience car control on a huge patch of tarmac is part of the fun andthe experience. The instructor will encourage you to approach the bendfaster and faster until you do reach this limit, he will then explainwhat to do to avoid the spin and you can go out and try it for yourself.Once everyone has made some progress with this the day moves on to twoconed circuits providing an opportunity to try out your new found skills and explore the capabilities of your car.All of this is great fun, but of course is designed to give you theconfidence to come away from the day with new skills and book your first track day.It is therefore intended for TRACK DAY FIRST TIME & NOVICE DRIVERS ONLY.No experience is required. No helmets are required. Just you and your car. For further information, please email Dave Pearce DaveP@MGs-on-Track.com

The MGCC member price will only be given if you have entered your membership number in your website profile HERE BEFORE booking your place.
Who's going
| Driver | Car |
| --- | --- |
| No bookings at present. | |
Event Manager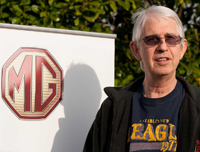 David Pearce
07976 796213
Upcoming Events
Brands Hatch
Fawkham, Kent
7th December 2020
Status: Open
SOLD OUT!
Recent Events.
Goodwood
Goodwood, West Sussex
26th October 2020
[
Event Info
]
Donington Park
Castle Donington, Derby
5th October 2020
[
Event Info
]
Castle Combe
Chippenham, Wiltshire
7th September 2020
[
Event Info
]
Content © 2020 MGs on Track. All Rights Reserved. (Version: 2020.02.23)