Event Information
Castle Combe Afternoon Only
| | |
| --- | --- |
| Event Date: | 10th September 2018 |
| Venue: | Castle Combe |
| Event Location: | Chippenham, Wiltshire |
| Noise Limits: | 98 db |
| Status: | Completed |
Schedule
| | |
| --- | --- |
| Sign On Time: | 07:30 am |
| Briefing Time: | 08:30 am |
| Track Start Time: | 09:00 am |
| Track End Time: | 05:00 pm |
* Above track time is subject to a lunch break & conditions on the day.
Additional Information
Castle Combe bookings have now been split into three different bookings. These are all day, morning only or afternoon OPL only. This event is for the AFTERNOON ONLY.
We expect each car to have 3 hours of open pit lane in the afternoon when a maximum of 12 out of the 48 cars attending will be on track at any one time.
Cars must be roadworthy and comply with current MOT legislation. You must bring your full driving license to the sign-on. All persons going on track must wear a suitable crash helmet of recognised manufacture and have arms and legs covered.
Instruction
We regret that instruction is not available in cars which are not fitted with seatbelts. We encourage all drivers to take the opportunity of instruction with our Association of Racing Drivers Schools (ARDS) Grade A qualified instructors. We strongly advise all levels of experience to take advantage of these, but it is especially beneficial for first time and novice drivers. Book and pay at the same time you book your place. Please note we are unable to provide more than two instruction sessions per car. Any additional booked will be cancelled. To help us schedule the instructor's time between the groups we have separated sessions into three types :-
Sighting Lap Instruction. - This is ideal for first timers, your instruction will be first thing in the morning during the sighting laps whilst there is no overtaking and cars are running at a slower pace. This allows plenty of time for the instructor to describe and guide you along the best line through the corners. There being no overtaking, you don't have the additional task load of keeping an eye in your rear mirror for approaching cars.
Novice Instruction - This is our standard instruction, carried out through the morning novice group sessions. Please book this only if you are a novice or first timer.
Advanced & Intermediate Instruction - This is our standard instruction, carried out through the morning intermediate and advanced sessions. Please book this only if you are Experienced or Somewhat experienced.
Who's going
| Driver | Car |
| --- | --- |
| Log in to see driver names | 1968 MG C Roadster (170 bhp) - BLACK |
| | 1959 MG A Roadster (120 bhp) - Dark Blue |
Event Manager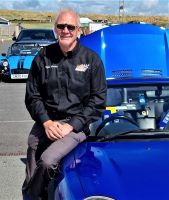 Nigel Silman
Upcoming Events
Goodwood
Goodwood, West Sussex
29th October 2018
Status: Open
SOLD OUT!
Brands Hatch
Fawkham, Kent
3rd December 2018
Status: Open
Spaces: 21/40

Recent Events
Anglesey
Anglesey, North Wales
5th October 2018
[
Event Info
]
Donington Park
Castle Donington, Derby
1st October 2018
[
Event Info
]
Castle Combe
Chippenham, Wiltshire
10th September 2018
[
Event Info
]
Content © 2018 MGs on Track. All Rights Reserved. (Version: 2018.06.15)