Event Information
| | |
| --- | --- |
| Event Date: | 7th December 2020 |
| Venue: | Brands Hatch |
| Event Location: | Fawkham, Kent - [ View Map ] |
| Noise Limits: | 105 db |
| Status: | Completed |
Schedule
| | |
| --- | --- |
| Sign On Time: | 07:30 am |
| Briefing Time: | 08:30 am |
| Track Start Time: | 09:00 am |
| Track End Time: | 04:00 pm |
* Above track time is subject to a lunch break & conditions on the day.
Additional Information
For the avoidance of any doubt, until further notice any second drivers or passengers must be from the same household in order to share a car. Likewise, there is no instruction or helmet hire available due to the Covid-19 pandemic in order to meet Government regulations. Please only book if you are able to accept these restrictions.
Our traditional Season's closer at the ever-popular Brands Hatch Indy Circuit. This is a two session per hour day. Sessions last 20 mins. We expect each car to have 2 hours of track time during the day assuming no stoppages.
Once all the bookings are in, we'll assign the sessions on the basis of experience, so that one session will be more suitable for novices and the other for our more experienced track day drivers. Cars must be roadworthy and comply with current MOT legislation. You must bring your full driving license to the sign-on or you may not be allowed on track.
Instruction and Coaching - Not available due to COVID restrictions
Helmet Hire - Not available due to COVID restrictions
Second Drivers
You can book to bring along a second driver but we can only allow one additional driver per car. The second driver must sit as passenger during the sighting laps and then perform his own sighting laps at a lower speed during his first session on track. If your second driver's experience is significantly different from your own please email the event manager below.
Your second driver must be from the same household or social bubble.
Passengers
Passengers are free, bring as many as you like but only one in a car at a time. Please either enter their names when you book or email the event manager to let him know.
Your passenger must be from the same household or social bubble.
Details about the day
We will e-mail an event guide with final instructions during the week before the event, please read it carefully when it arrives. This event guide will also be posted in the Forum.
Any questions regarding this event or bookings, email our event manager John Dignan at JohnD@mgs-on-track.com.
Booking is only through this website.
You need to be logged in to the website to see the 'Book and Pay' button. Use this to make a secure online payment to guarantee your place and extras. Debit and Credit Cards are the only form of payment methods we are able to accept.
At our discretion, we will occasionally take bookings from MGoT members who have compatible cars other than MGs. Anyone wanting to book a non-MG should contact us by phone or email. The online booking system is reserved for MGs or Rovers only.
The MGCC member price will only be given if you have entered your membership number in your website profile HERE BEFORE booking your place. We cannot give retrospective refunds for this.
Who's going
| Driver | Car |
| --- | --- |
| No bookings at present. | |
Event Manager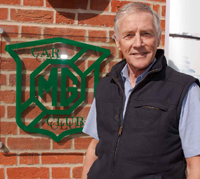 john dignan
Recent Events.
Goodwood
Goodwood, West Sussex
27th April 2021
[
Event Info
]
Cadwell Park
Louth, Lincolnshire
12th April 2021
[
Event Info
]
Content © 2021 MGs on Track. All Rights Reserved. (Version: 2020.02.23)