Event Information
Bedford Autodrome GT Half Day
| | |
| --- | --- |
| Event Date: | 11th March 2019 |
| Venue: | Bedford Autodrome |
| Event Location: | Bedfordshire - [ View Map ] |
| Noise Limits: | 101 db |
| Status: | Completed |
Schedule
| | |
| --- | --- |
| Sign On Time: | 07:30 am |
| Briefing Time: | 08:30 am |
| Track Start Time: | 09:00 am |
| Track End Time: | 05:00 pm |
* Above track time is subject to a lunch break & conditions on the day.
Additional Information
This booking link is for half-days only. Please use the other event to book a whole day.
We make a welcome return to Bedford Autodrome this year for a two MGoT session per hour event on an MSV run sesssioned day (the third session will be sold and run by MSV). We envisage two sessions comprising first-timers, novices and those with some experience and the second session for the more experienced drivers but, of course, depending on the experience of those booking this is subject to change to ensure everyone is in a suitable group. We will run 40 cars per 20 minute session on this 3.8 mile long GT circuit (its is longer than Silverstone GP which is 3.66 miles) and this circuit was custom designed by ex-F1 driver, Jonathan Palmer. There will therefore be plenty of space for everyone and the GT circuit is a fast and challenging circuit - check out this link for a fast lap with our very own Dave Pearce.
Instruction
We encourage all drivers to take the opportunity of instruction with our Association of Racing Drivers Schools (ARDS) Grade A qualified instructors. We strongly advise all levels of experience to take advantage of these, but it is especially beneficial for first time and novice drivers. Please book and pay at the same time you book your track day place.
Please note we are unable to provide more than two instruction sessions per car. Any additional booked will be cancelled. If you are an experienced or intermediate level driver, please book into the experienced instruction option. Otherwise, please book the novice instruction. Both options are the same but it will help us to schedule the instruction sessions.
Helmet hire
We have a small number of helmets available to hire on a first come, first served basis and these can be booked online at the same time as you book your place.
Second Drivers
You can book to bring along a second driver but we can only allow one additional driver per car. The second driver must sit as passenger during the sighting laps and then perform his own sighting laps at a lower speed during his first session on track.If your second driver's experience is significantly different from your own please email the event manager below.
Details about the day
We will e-mail an event guide with final instructions during the week before the event, please read it carefully when it arrives. This event guide will also be posted in the Forum under the relevant thread.

Four key items worth mentioning before you book
1. Cars must be roadworthy and comply with current MOT legislation.
2. You must bring your FULL driving license to sign-on, or you may not be allowed on track.
3. All persons going on track must wear a suitable crash helmet of recognised manufacture and have arms and legs covered.
4. Don't forget to add your MGCC number before you book to get the member's price.
Who's going
| Driver | Car |
| --- | --- |
| Log in to see driver names | 2001 MG TF (130 bhp) - Silver |
| | 2001 MG F Trophy 160 (160 bhp) - Trophy Yellow |
| | 2014 Porsche Boxster (321 bhp) - Silver |
| | 2002 MG F (160 bhp) - BRG |
| | 1969 MG B V8 Roadster (170 bhp) - Black |
| | 2004 MG ZS 180 MK2 (180 bhp) - Xpower Grey |
Event Manager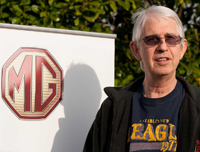 David Pearce
07976 796213
Recent Events.
Mallory Park
Kirkby Mallory, Leicester
21st April 2020
[
Event Info
]
Content © 2020 MGs on Track. All Rights Reserved. (Version: 2020.02.23)